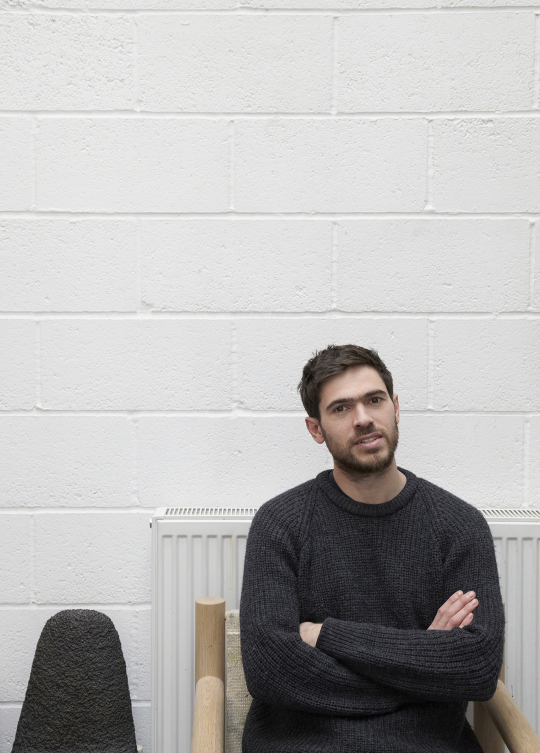 This piece originally was a post to my People Watching column for the NYTimes T Style online in May, 2012.
There are a few words that consistently come to mind when I think of Max Lamb's work: primal, elemental, excavation. Yes, excavation. Go on Lamb's website and you will lose hours watching him unearth pewter stools from his favorite childhood beach in Cornwall, England (literally, he uses a primitive sand casting technique), or liberate the form of a chair from a block of polystyrene. Trips to China (to make tables and chairs out of granite boulders), to the aforementioned beach in Cornwall and to quarries in the Catskills and Australia all yield beautiful, monumental pieces of one-of-a-kind furniture. I love that Lamb takes us all along for the ride by posting videos and photos of his process for each project. About half a year through my Internet travels with Max, it occurred to me that he is a throwback to an earlier era: he is a journeyman. So much of his work is produced in remote locations. But a journeyman furniture designer? Is there such a thing? When I started planning a trip to London this spring, I had a mutual friend introduce us and invited myself over for a studio visit.
Lamb and his girlfriend, the artist Gemma Holt, share a live-work space in a former shoe factory in North East London. Entering the front door of No. 11, you pass through Lamb's workshop first before entering the living area. The workshop is packed: polystyrene is stacked to the rafters, and European oak dowels of every size imaginable line the walls. "I hate discarding anything so I accumulate until eventually I find a way to turn it into a project," Lamb told me.  "Some of my best work has evolved through the use of scrap material." Chairs in all stages of production — destined for a private commission — sit on work tables. As I entered the translucent door to the living space, it was hard not to smile. (I probably did.)  More chairs — and barely a matching pair in the bunch — coexist among beautiful collections of objects. British studio pottery, brass pieces and 3-D geometric puzzles litter almost every surface. A set of Lamb's crockery for 1882LTD, just shown at the ICFF in an exhibit called British Bone, sits filled with masses of daffodils on a bookcase near the entry. The Moss table, another of his designs, dominates the main room, flanked by a home office area and kitchen on either end, and stairs lead up to a loft bedroom that Lamb enclosed with plywood walls. Part of the bedroom has become a storage room for Lamb's pieces; like everyone I have met in London, the couple needs more space!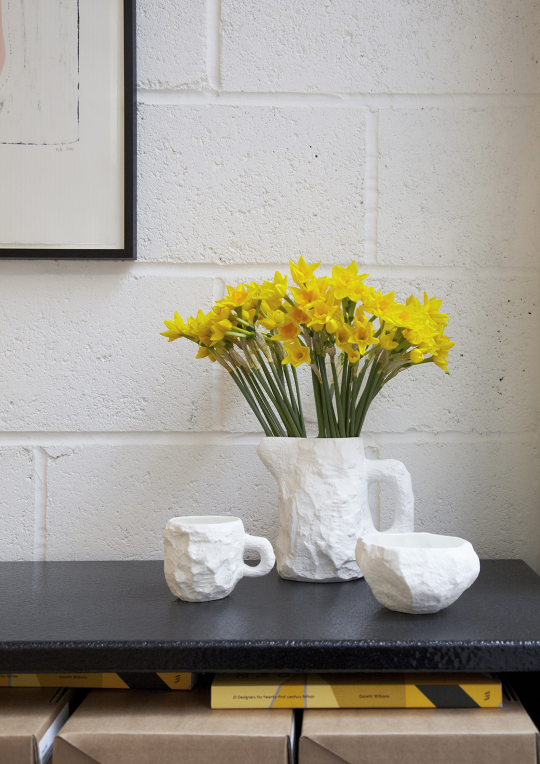 As we sat down to a lunch of gooey Camembert, fresh salad and radishes from the farmers' market, and apple juice, we talked about how Lamb produces almost half of his work off site. He thrives in places unknown — maybe because his father was in the air force and the family moved often when Max was young. "In China, I didn't have an interpreter for the first trip," he said. "We talked in sign language, and I drew out the shapes on boulders. But we communicated very effectively. It worked."  The live-work space that he lives in now is his longest address to date — five years, the length of time his studio has been in business — and the combination of this home base with his nomadic adventures seems to be working out rather nicely. There is a big design commission in another far-off corner of the world coming up, as well as various projects that bring him back to Britain. "It might be because my childhood was spent following my dad around and living out of doors," Lamb said of traveling. "It feels natural to me."
Learn more about Max Lamb at maxlamb.org.
See the original post on the NYTimes T website here.